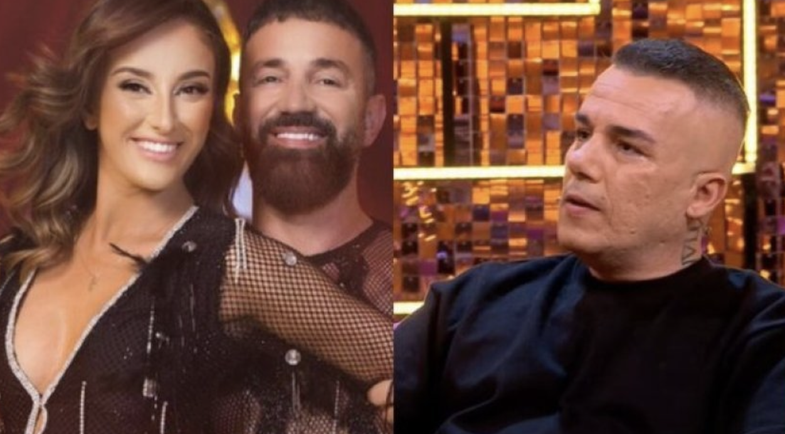 Elvis Pupa was eliminated from "DWTS", because he didn't even bother to get up from his chair to do his performance and as tradition loves, he should have been in the studio of "Fun Club" to discuss with moderator Kiara Tito and Albi Nakon what happened or how he felt after leaving.
Elvis, at the last moment, decided not to appear at the "Fun Club". Kiara, first said: "I know you were expecting the next eliminator, Elvis Pupa, to be on my right-hand side and it would have been like that if Vis hadn't told us at the last moment that he wasn't coming, but Jora (his dance partner) has decided to come today, despite the fact that you did not leave the competition with Vis, you still decided to come and support him".
Jora, who escaped elimination after the VIPs switched dance partners last week, said: "Of course, Vis has a reason why he's not here and he knows better. I was his partner and I would like them to finish the race together and of course I am here to talk about our journey".
View this post on Instagram
Here Albi Nako intervened and said: "Jora says there is a reason, but I also had a reason." Today I fell from the second floor with the whole closet, but I came. I see Vis a little complicated by the situation on Friday, with the number he did with Toke. Visi knows television and not being here, I see him very frustrated, stressed. He could have come here, he could have justified the situation with an apology for Friday".
Meanwhile, the commentators said: "Elvis Pupa is the same since when he was in "BBVA 2" he didn't have the courage to take a stand, he didn't even agree to answer Arbana's questions, but he ate his bread in vain, taking care of Luiz." ; "Shame, shame, shame for Vis! He should have shown respect for the show, the audience and especially for Kiara. There is no manhood!"; "I did not expect this reaction from Vis, not to come to the studio"; while others justify his absence, saying that something happened between him and the production, and some others say that there may have been family events.