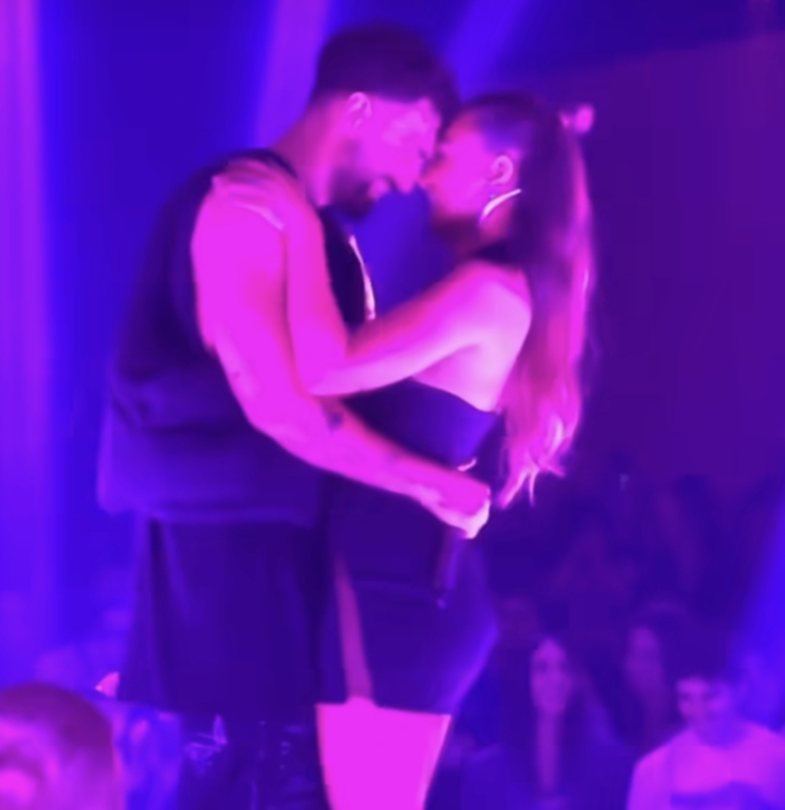 Ledri and Sara, every time they appear together, they look like stars and show us how much chemistry they have. Yesterday, Ledri promoted his album "A goat for you" and in some videos published on social networks, Sara and Ledri dance, look sexy, enjoy the moment!
View this post on Instagram
Ledri took Sara on stage as she performed and Sara gave the performance of her life, shining next to her partner.
The couple looked more in love than ever and their chemistry made us believe in love.
If you're still skeptical, here's why they have super chemistry as partners:
Face to face contact!
Kontakti i syve është art më vete dhe Sara dhe Ledri e bënë në mënyrë kaq joshëse dhe aspak të sikletshme.
Sara ishte totalisht vetvetja
E çlirët, seksi, qendra e vëmendjes, Sara u ngjit në skenë dhe kërceu me këngët e partnerit të saj dhe në çdo moment dukej kaq rehat dhe vetvetja.
Puthjet
Ca gjëra janë mëse të qarta! Puthjet vinin krejt natyrshëm dhe dukeshin super të ëmbla!
Prekjet
Khëm, më falni, e vutë re se si Ledri e prekte gjithë kohës Sarën? Dukeshin aq emocionuese dhe të mbushura me pasion, sa nuk dimë ç'të themi.
Buzëqeshjet
Sarën, kaq të lumtur e kemi parë vetëm kur fitoi kupën e "Dancing With The Stars" dhe mund të themi se të gjitha lëvizjet që mësoi në këtë garë, i shërbyen për të dhuruar spektakël në mbrëmjen e djeshme.
Tani, nëse e morët veten nga kimia e Ledrit dhe Sarës, le të flasim për këngët e albumit "Një Goat Për Ty".
Ledri will bring some super collaborations :
"2 passports" with MC Kresha and Vig Poppa
"BoomBoom" with Mozzik
"Walk Away" with Buta, Singi and Lumi B
"Omel" with Lyrical Son
"Win Win" with Capital T
"Mrena" with Lumi B
Of course, also solo songs :
"A goat for you"
"State"
"Paparazzi"
"Touch" (published)
"Stay"
"You love me"
"Hello Hayter" (published)
Now, we wait to hear the songs, keeping in mind the dances and happiness of Sarah, who is the proudest supporter and partner!
Suggested articles: