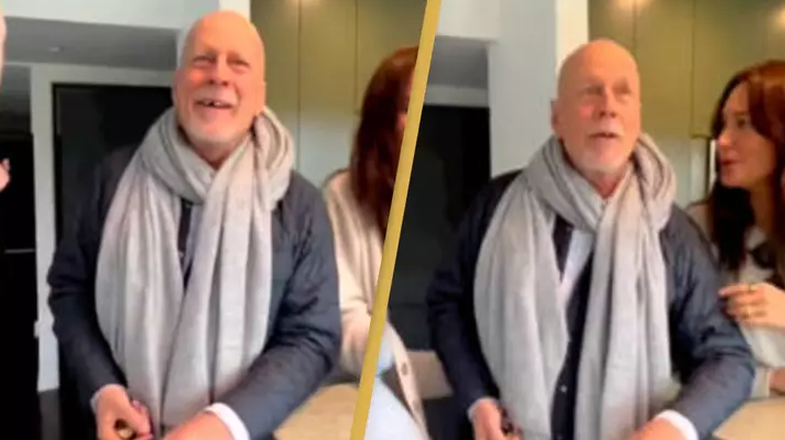 Bruce Willis celebrated his 68th birthday surrounded by family, who shared several videos on social media on Sunday, March 19.
Die Hard star Demi Moore's ex-wife, 60, posted on Instagram the moment the Willis family sang "Happy Birthday" to the Hollywood icon.
View this post on Instagram
Willis can be heard talking to his family - including wife Emma Heming Willis, 44, and daughters Rumer, 34, Scout, 31, and Tallulah, 29 - as he joined in with 'hip hip hooray' and blew out the birthday candles .
View this post on Instagram
Muajin e kaluar, familja Willis njoftoi se aktori ishte diagnostikuar me demencë frontotemporale (FTD) e cila ndikon në lobet e trurit prapa ballit. Simptomat përfshijnë ndryshime të personalitetit, sjellje obsesive dhe vështirësi në të folur. Nuk ka asnjë kurë të njohur.
Gruaja e Willis, Emma, ish-gruaja, Demi dhe pesë vajzat postuan deklaratën e mëposhtme në faqen e internetit të Shoqatës për Degjenerimin Frontotemporal:
"Familja jonë donte ta fillonte duke shprehur mirënjohjen më të thellë për dashurinë, mbështetjen dhe gjithë historië e mrekullueshme që na keni treguar, që kur ndamë diagnozën e Bruce."
Njoftimi erdhi gati një vit pasi aktori i "Unbreakable" vendosi të shkëputej plotësisht nga kinematografia.
Edhe bashkëshortja e tij ndau disa momente me Bruce, duke e uruar për ditëlindjen:
"He is pure love and I will always love him," she wrote.