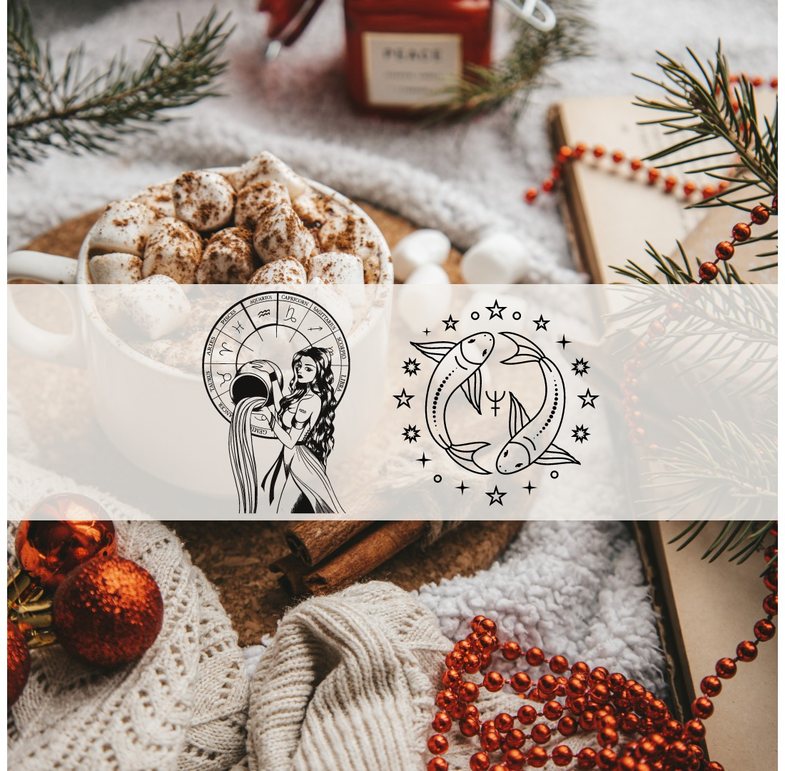 Once December rolls around, the most romantic part will be there from the 7th, as the Full Moon in Gemini illuminates your 5th house of true love. Saturn will bring you a kind of solid durability and longevity, showing you that this love is real and can last. Mars doubles this kind of energy, so enjoy it.
During the first half of the month, you will spend magical dinners with your partner in elegant restaurants and festive decorations. You will have time to spend with your little ones and tell them Christmas stories that you enjoyed endlessly when you were little.
You can also receive invitations from your friends and it looks even more fun! It will be a very active month for you, so be sure to sparkle! You will have many festive gatherings and you need to shine. This is the first year you take that long, much-needed vacation to celebrate Christmas.
This period you can make enough money from something you will create yourself - painting, music, dance, design, etc. - you decide.
The second half of the month will be very different because you will disconnect from many social activities and focus on the people you have close to you, your family. December 23 will be the most comfortable and emotionally warm day of these holidays as you will be with your people, setting goals for the coming year.
Aty nga fundi i muajit, Mërkuri do të nis prapavijën nga 29 dhjetori deri në 18 janar, prandaj qëndroni fleksibël sepse ngjarjet nisin të ndryshojnë, ka vonesa dhe anullime. Ndonjëherë ndryshimet janë shumë të mira prandaj ju mbetet vetëm që ta mbani axhendën tuaj të hapur dhe të vendosni në minutën e fundit çfarë doni të bëni dhe çfarë jo. Eshtë muaj për t'u shijuar gjer në fund!

Familja është elementi më i rëndësishëm i jetës suaj gjatë këtyre ditëve dhe duket se një person në veçanti nga të afërmit tuaj kërkon një fokus të fortë që mund të zgjasë deri në 25 mars. Dukeni në proces transformimi dhe nga fundi i marsit do ta gjeni veten në një vend të ri mendërisht dhe shpirtërisht. Me shumë gjasa do të krijoni marrëdhënie shumë të ngushta me dikë që e keni menduar dhe ka treguar kujdes ndaj jush. Qartazi diçka shumë e rëndësishme po arrin drejt një pike kulminante dhe pret për vendimin tuaj.
Këtë muaj, Hëna e Plotë në Binjak do të mbërrijë në 7 dhjetor dhe do të ndikojë në sektorin e shtëpisë dhe familjes suaj. Neptuni, planeti juaj udhëheqës do t'ju tregojë se cili është informacioni që mungon nga puzzle që duhet të krijoni në lidhje me çështjet familjare. Duhet të jepni përgjigje më praktike, më realiste pavarësisht reagimeve të të tjerëve. Nga të gjithë shenjat, ju jeni ata që ndiheni më rehat kur merrni vendime edhe kur ka mungesë informacioni.
Kjo sepse intuita juaj është e fortë, prandaj ju vetë e lini atë të flasë për ju. Gjërat do të jenë mjaftueshëm pozitive fiks në kohën e pushimeve. Një dëshirë shumë e madhe që mbani do të bëhet realitet.
Uranus, the planet of the unexpected, will surprise you on December 23. It is a perfect time for love and travel. You are entering a very positive year, one of the most productive you have had during this decade. You may have been a little worried about some family matters, but you will enjoy the holidays as you deserve. It will be the most wonderful days you have spent in recent years. You will feel enveloped by the warmth of friends and family and among traditions you will enjoy every day off.
It is as beautiful as we described it!
Copyright Anabel.al / Reprinting without the permission of the editors is prohibited.