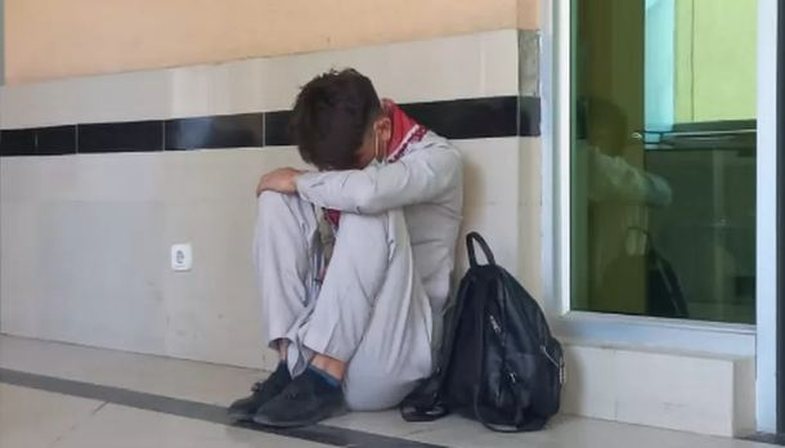 At least 35 people have been killed in an attack near an educational center in Kabul. More than 80 others were injured in Friday's attack on Kaaj college in Dasht-e-Barchi area.
Most of the victims were young people who were preparing for the next exam at the time of the bomb explosion. So far, nothing is known about those responsible for the tragedy.
Many of the victims belonged to the Hazara minority, a minority that has often been targeted by Islamic State militants.
Dhjetra gra Hazara kundërshtuan ndalimin e tubimeve nga zyrtarët talebanë të vendit për të protestuar kundër dhunës të shtunën, njoftoi agjencia e lajmeve AFP.
Rreth 50 gra kënduan ndërsa marshonin në rrugë, duke bërë thirrje për t'i dhënë fund "gjenocidit Hazara".
Pas sulmit të së premtes, pamjet në mediat lokale dhe ato të shpërndara në rrjete sociale shfaqën qartë skena të dhimbshme: adoleshentë të shtrirë në korridoret e spitalit, trupa pa jetë, tavolina të përmbysura dhe rrënoja të mbetura nga institucioni arsimor.
"Nuk po e gjejmë atë asgjëkundi!"- dëgjohet të thotë një grua e cila kërkonte për motrën e saj 19-vjeçare në spital.
Sulmuesi raportohet se ka qëlluar mbi rojet jashtë qendrës, ka hyrë në një klasë dhe ka shpërthyer një bombë.
Dëshmitarët okularë thanë për BBC-në se shumica e viktimave ishin vajza – ato ishin ulur në rreshtin e parë, në momentin e shpërthimit. Një tjetër student i plagosur tha se në dhomë ishin rreth 600 persona kur ndodhi sulmi.
Burimi: BBC