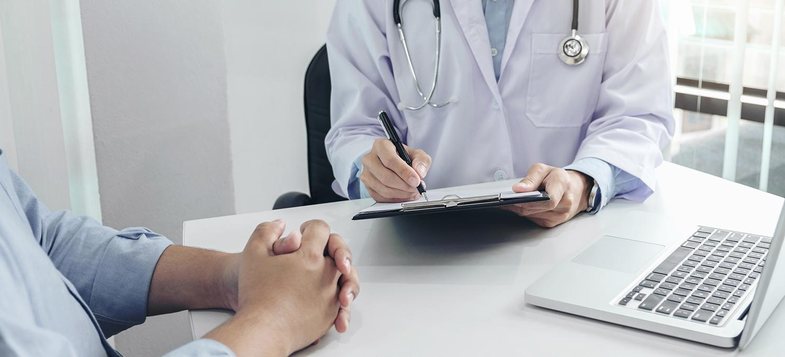 The prostate is a small muscular gland in the male reproductive system. The prostate surrounds the urethra and produces most of the fluid in the semen. The muscular action of the prostate helps circulate fluids and sperm through the penis during sexual intercourse.
In many men, the prostate can become enlarged. Sometimes it leads to symptoms and, over time, to other complications. However, there are treatments.
What are the problems of enlarged prostate?
Due to the blockage of the urinary tract, concerns appear such as:
- after urination, the feeling of not emptying the urine
- frequent
urination - frequent urination at night (nocturia)
- intermittent
urination - urination with abdominal tightness
- decrease in the flow of urine
Is prostate enlargement a type of cancer?
No. Prostate cancer and prostatic hyperplasia (enlargement) are different diseases. Their treatment is very different, so these two diseases must be separated from each other. PSA analysis and finger rectal examination are used to distinguish these diseases.
What are the reasons that the prostate enlarges?
In the enlargement of the prostate, the main reasons are the increase in male hormones such as testosterone and the increase in age in years.
Why should prostate enlargement be treated?
Sepse po nuk u trajtua si problem me kalimin e kohës duken infeksione të rrugëve urinare, gurë në vezike dhe pacienti mund të shkojë deri në mosfunksionim e veshkave siç duhet (insuficiensë renale).
Cili është trajtimi i zmadhimit të prostatës?
Për çdo pacient mënyra e trajtimit mund të ndryshojë. Ka dy lloje trajtimesh. Kirurgjia e prostatës dhe trajtimi me ilaçe. Në kirurgjinë e prostatës ditët e sotme teknika më e përdorur është *Prostatetektomi transuretrale* ose TUR-P. Me anestezi gjenerale ose spinale duke u futur nga uretra me një mjet që quhet rezektoskop bëhet zhbllokimi i gjëndjes së shkaktuar nga zmadhimi i prostatës.
Nga disavantazhet mund të përmendet që pas këtij operacioni sado me përqindje të ulët mund të ketë impotencë ose humbje të ejakulacionit. Opsionet e tjera për operim janë operacionet e hapura dhe prostatektomia me lazer. Ilacet e përdorura për prostatë tentojnë në zgjerimin e uretrës dhe në ndikimin e hormoneve të prostatës për zgjerimin e muskujve të drejtë të uretrës.
Kujdes!
Para se të flini gjumë boshatiseni fshikëzën e urinës.
Pini rreth 8-10 gota ujë në ditë,por jo 2-3 ore para se të flini gjumë.
Kujdes me ilacet antihistaminike që hapin hundet, mushkëritë dhe gjendjen gripale sepse mund të kenë efekte anësore si urinim me vështirësi.
Mundohuni të mbani larg stresin.
Rrini larg pijeve me kafein, alkool, kripë të tepërme dhe ushqime me acide të tëpruara.
Të paktën një herë në vit bëni një kontroll urologjik te urologu për prostatë.
Burimi: Health Line