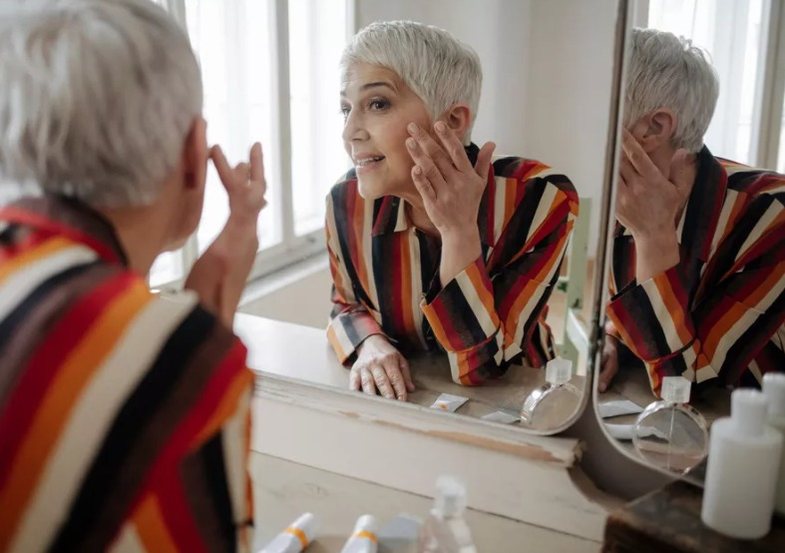 Anyone who experiences a menstrual cycle knows how changing hormones affect the skin. During ovulation, the skin is at its peak: Clean and radiant.
The days before your period starts are usually the days when the skin is irritated, it is oilier than before and you may have more spots.
This change occurs due to the drop in estrogen at the end of the cycle, but a similar change in hormones (along with progesterone) also occurs when you enter pre-menopause and menopause.
The body naturally begins to produce less estrogen, which can make the skin look drier and less radiant. During this time, you may also experience skin irritations.
It's impossible to prevent the hormonal changes that come with this stage of life, but there are some things we can do anyway, for healthy skin.
First, let's understand: What role does estrogen play in skin health?
Estrogen is an important hormone for many bodily functions – including maintaining what is considered youthful skin. It helps prevent skin aging when it is at the right levels and prevents the reduction of collagen and skin elasticity.
It also helps keep the skin hydrated, which is why post-menopausal skin is usually drier than before.
Është treguar gjithashtu se luan një rol në ruajtjen e integritetit dhe funksionit të pengesës së jashtme mbrojtëse të lëkurës, të quajtur stratum corneum.
Ndërsa ulja më e madhe e estrogjenit ndodh gjatë menopauzës, trupi gradualisht prodhon më pak kolagjen ndërsa plakemi. Estrogjeni luan një rol të madh në prodhimin e kolagjenit, së bashku me funksionet e tjera.
Prodhimi i kolagjenit bie në mënyrë të vazhdueshme - duke filluar nga të 30-at. Por në kohën kur jemi në të 40-at, shenjat e humbjes së kolagjenit janë më të dukshme. Nëse ndodh menopauza, gratë mund të humbasin rreth 30% të kolagjenit në pesë vitet e para të menopauzës.
Si të "imitoni" efektet e estrogjenit në rutinën tuaj të kujdesit për lëkurën
Estrogjeni nuk gjendet në produktet e kujdesit të lëkurës pa recetë, por markat kanë zhvilluar përbërës sintetikë që mund të imitojnë përfitimet që hormoni ka në lëkurë.
Ka një sërë përbërësish aktualë që përsërisin aftësinë e estrogjenit për të sintetizuar kolagjenin dhe elastinën. Përbërësi kryesor që e bën këtë me efikasitetin më të madh është retinoli, i cili ka qenë prej kohësh i famshëm për aftësinë e tij për të stimuluar kolagjenin. Vitamina C dhe peptidet janë dy përbërës të tjerë që ndërtojnë kolagjenin.
Including AHAs and BHAs can also help minimize the impact that a drop in estrogen has on the skin. Regular use of these acids gradually helps the skin to become better at producing collagen, as they make the skin cells think that the skin is damaged, activating an internal cellular mechanism to trigger collagen synthesis as a response for healing "wounds".
What treatments can be done to compensate for the lack of estrogen?
Dermatologists may suggest collagen-boosting treatments in conjunction with an at-home skin care regimen. These procedures include, but are not necessarily limited to, lasers, microneedling with and without radiofrequency, and chemical peels of various depths.
Source: In Style