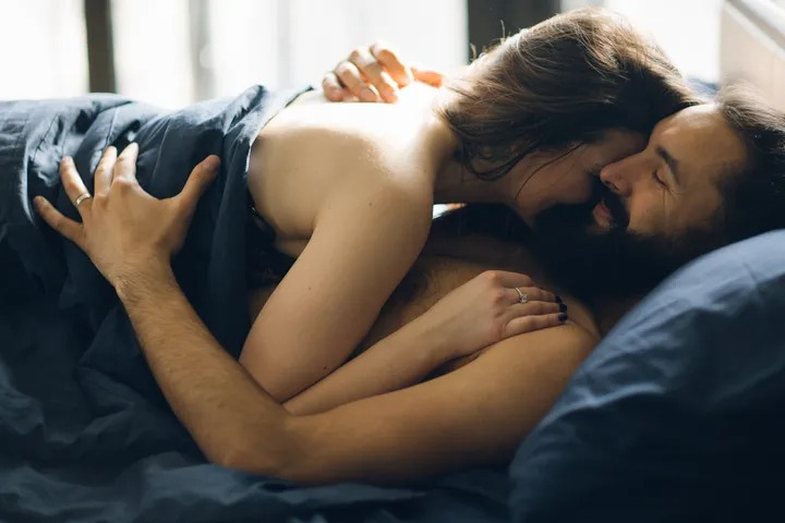 1. They don't limit sex only to the bedroom
"We have a little one who sleeps in our bed, so we have to be a little creative. It's fun to have sex in places other than the bed. It makes sex and emotions different every time."
2. They remove penetration from the menu from time to time
"Sex can go to the next level without classic penetration. Try it."
3. Or they take some long vacations without sex
"What has improved our sex life has been a long break from sex. My partner of 7 years and I occasionally choose not to have sex, but when we do we talk a lot about sex. This absence increases our desire for each other and going back to sex is just wow."
4. They sleep naked
"When you sleep naked and accidentally touch each other, something happens and you end up having sex. So sleeping naked is a natural way to increase the number of times you and your partner have sex."
5. They laugh at strange things that happen in bed
"Sex has many things in it: it includes joy, pleasure, being intimate, etc. - but it does not exclude the gallant and somewhat strange moments. My partner and I remember them often and they push us more and more towards each other.
6. Ata e dinë që seksi i mirë jo domosdoshmërisht është i egër
"Unë dhe im shoq jemi bashkë prej 25 vitesh dhe seksi ynë shijon le të themi...si vanilje. Sekreti i madh që duhet të dini është se nuk ka nevojë që të bëni seksin e '50 Shades of Grey' për të pasur një jetë të kënaqur seksuale- duhet thjesht që ti dhe partneri të jeni të qartë për pritshmëritë në lidhje me njëri-tjetrin."
7. Kanë një kalendar seksin
"Ne e planifikojmë seksin para. Patjetër që seksi spontan është shumë seksi, por te kesh një ditë kohë për të fantazuar, për të flirtuar dhe për të bërë paralojën që do kërkon pak planifikim dhe të jep kohë për t'u përgatitur."
8. Nuk kanë turp t'i thonë fëmijëve që i duhet pak privatësi
"We tell the kids that we need some time alone. We are very close to each other and we talk about a lot of things. Although before the pandemic we didn't tell them when we were going to have sex, the pandemic forced us to share some things. No one went out from home and it was SUPER stressful, so some things needed to be cleared up."
9. They are fast sex pros
"We focus 100% there and it's wow. You find new ways and feel much more energetic. 10/10 for fast sex."
10. Vacations are to expand the sexual horizon
"Being away from the daily routine increases the desire to get closer and find new and sexier ways to have sex."
Source: Huffington Post