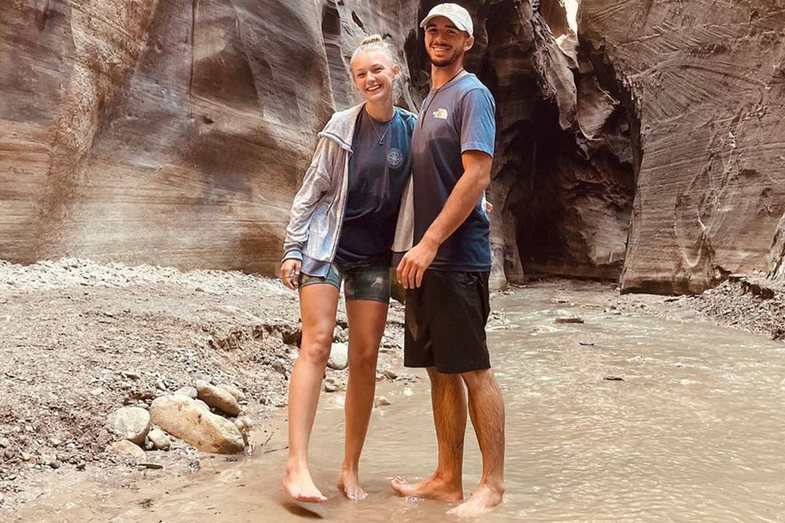 Brian Laundrie's notes containing his confession to the murder of his fiancée, Gabby Petito, have been published.
The FBI said in a press release in January that Laundrie, who died of suicide, left behind a notebook of "written statements" claiming "responsibility for Petito's death." On June 24, a lawyer for his parents, who have been sued by Gabby Petito's family for her death, released copies of the notes, which were partially stained by what appears to be water damage.
"I ended her life," Laundrie wrote. "I thought she was merciful, that was what she wanted, but now I see all the mistakes I made. I panicked, I was in shock."
The 23-year-old wrote that Petito was injured as the two attempted to cross a stream. He noted that she had a "lump on her forehead" and was "cold" and "prayed to end her pain".
Laundrie added: "From the moment I decided, that I took away the pain, I knew I could not go on without it." He also called her death a "sudden tragedy, adding," Gabby was the love of my life, but I know many adore her. "I feel very sorry for her family because I love them."
A Petito family lawyer, Patrick Reilly, told People that Laundrie's claim that the murder was merciful and came from an accident is "stupid," adding, "He wrote a letter as if he wanted people to feel sorry for him. ".
Gabby Petito, 22, was found dead in a remote area of ??Bridger-Teton National Forest in Wyoming in September, eight days after her parents reported her missing and 18 days after Laundrie returned alone to his parents after couple travel by van.
Investigations revealed that Gabby lost his life as a result of the murder through drowning. In October 2021, the FBI confirmed that the bones found in Florida belonged to Brian Laundrie.
Gabby Petito's death rocked the internet last year and became a hotly debated topic on social media. For more on the case of the late 22-year-old, you can read: