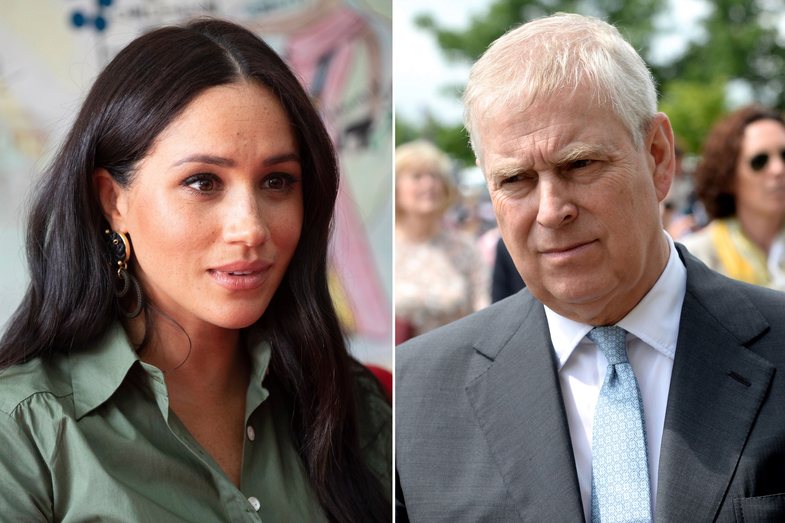 Meghan Markle has been treated differently by the tabloids, compared to other members of the royal family. The difference was especially felt this week, where a few days before the broadcast of her interview with Oprah Winfrey, Buckingham Palace announced that it would investigate allegations that Meghan Markle bullied former staff while living at Kensington Palace.
Meghan denied the allegations, calling them "the latest attack on her character" in a statement Wednesday. Meanwhile people on Twitter disagree with the double standard: While Meghan will be scrutinized in detail for the allegations, many allegations of sexual abuse against Prince Andrew have been ignored by the royal family.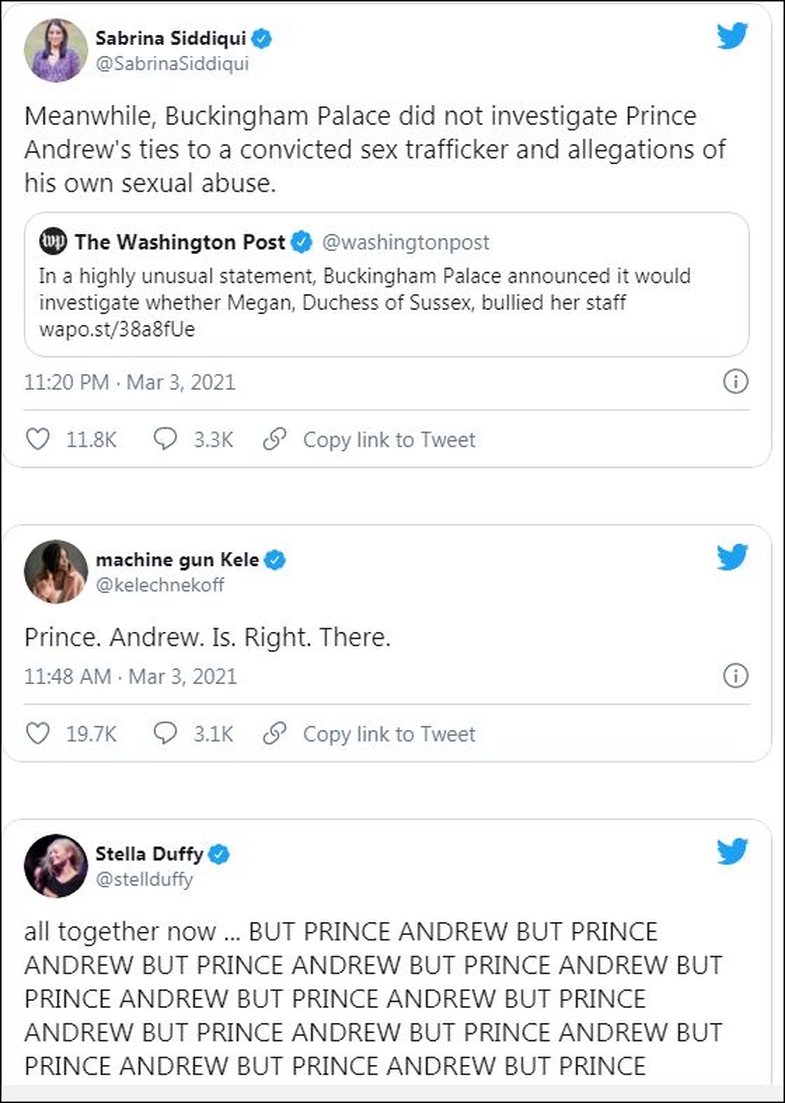 The royal family has never publicly investigated Prince Andrew's friendship with child trafficker Jeffrey Epstein, whom he met in 1999 and remained in contact with after Epstein was convicted of sexual offenses.
Princi Andrew, djali i mbretëreshës Elizabeth, tha se nuk u pendua për lidhjet e tij me Epstein në një intervistë të vitit 2019. Revista Time e citoi atë të thoshte, "njerëzit që takova dhe mundësitë që m'u dha për të mësuar ose prej tij ose për shkak të tij ishin në të vërtetë shumë të dobishme".
Ai u largua nga detyrat e tij mbretërore menjëherë pas dhe mohoi krimet e Epstein, por pretendimet e vetë princit Andrew për sulme seksuale nuk janë harruar nga publiku. Njerëzit u janë drejtuar rrjeteve sociale për të shprehur zhgënjimin dhe konfuzionin se sa ndryshe po trajtohen dy anëtarët e familjes mbretërore.
Disa kritikuan rolin e medias duke marrë parasysh raportimin për princin Andrew:
Princit Andrew i është ushtruar presion që duhet të bashkëpunojë me FBI-në për të hetuar të dashurën e Epstein, Ghislaine Maxwell, e cila pret gjykimin e korrikut për abuzimin dhe shfrytëzimin seksual të të miturve.
Njerëzit në Twitter shkruajnë se Buckingham Palace duhet të marrë energjinë për të hetuar bullizmin e pretenduar të Meghan Markle – të cilin shumë e konsiderojnë edhe strategji paraprake për të diskredituar figurën e saj para intervistës me Oprah – dhe ta drejtojë te princi Andrew.
Në fund të vitit 2019, Princ Andrew u bë kryefjala e titujve pasi adresoi për herë të parë shoqërinë me Jeffrey Epstein, miliarderin 66-vjeçar që u akuzua për krime të shumta seksuale dhe pretendohet se vrau veten në qeli. Epstein akuzohej për trafikim seksual të vajzave minorene.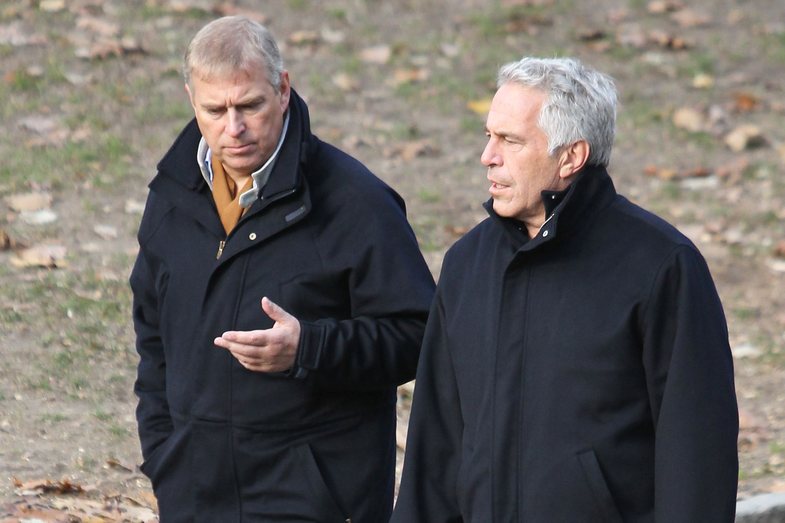 Lidhja me Princ Andrew dhe Epstein u bë pasi u publikuan disa imazhe të princit në vilën e miliarderit, realizuar në vitin 2010. Princi dha një intervistë për BBC Newsnight për të sqaruar situatën, por thjesht përkeqësoi gjendjen. Ai hoqi dorë nga gjithë detyrat mbretërore.
In December 2019, Virginia Giuffre, once Virginia Roberts, the girl allegedly sexually abused by Prince Andrew, gave an interview to Panorama TV. "She said she was brought to the UK when she was 17, specifically to have sex with Prince Andrew," a statement opposed by Buckingham Palace.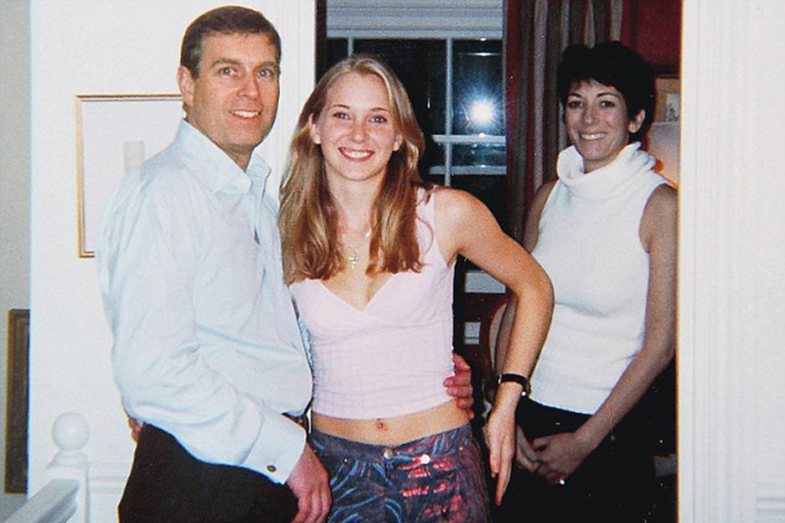 Prince Andrew, in an interview with the BBC, found it impossible to explain a photograph where he appeared in Giuffre's company, simply saying that the photograph could be a montage.