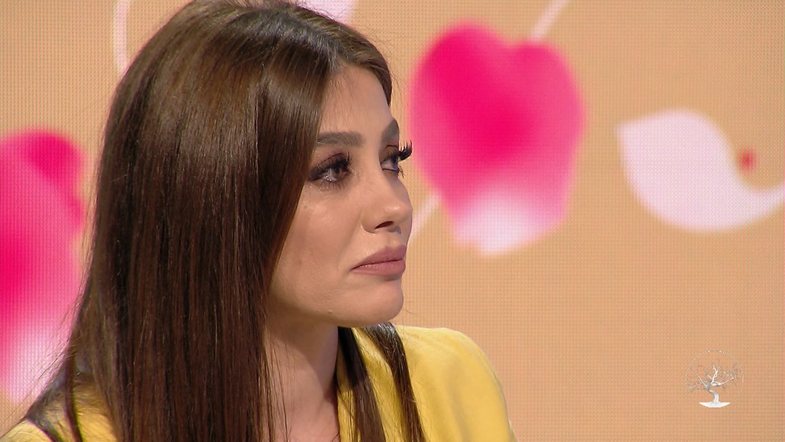 Arjola Demiri has always been very open to tell the story of her marriage, from which three children were born, Helga, Rubini and Alesia. In interviews, the actress has expressed that the relationship has been problematic, including violence and betrayal by the ex-husband, and given this, the whole divorce process turned out to be a difficult period. In an interview for "The future is a girl" on ABC News, Demiri focused on the most difficult moment in her life.
"I will tell a story that only my close circle, family and social circle knows. It is about Helga. After 10 years of trying to raise children, I told her that I was a full-time mother and I was never separated from them, I started parting with two or three days to go and start my career in Kosovo. The first year, the first season, I did it back and forth. I got up in the morning, sent them to school and left to arrive for the rehearsals at 12:30 in Prishtina. I shot all day and ran away at night to find them awake in the morning to send them to school, because they had neither their father nor me close. "
Arjola refers to the period when she started her career in Kosovo, specifically in the series "O sa mirë".
"Starting here the sacrifice for the three, being found financially unsupported because I had stayed with my family after the divorce. They opened the door for me and carried on their shoulders the development and growth of the four of us because I was at point 0 of my stage as a woman, as a mother, as a woman. A very difficult psychological period. "
She further stated that since her parents had taken care of the children for three years after the divorce, she decided to leave them with her father, so as not to aggravate the economic situation of the parents.
"I lashë për rreth 18 muaj derisa fëmijët kërkuan që unë të kthehesha sepse donin praninë time. Kur kthehem, pranë meje vjen Alesia dhe Rubini. Helga refuzonte të vinte [...] Ka qenë një vit i gjatë, i dhimbshëm, sepse nuk e gjeja dot forcën të shkoja dhe të përballesha me fëmijën tim. E kam kërkuar një herë te shkolla dhe më refuzoi dhe kishte ardhur momenti që gjykata të vendoste që Alesia dhe Rubini të qëndronin me mua, ndërsa Helga të qëndronte me të atin."
Ndonëse "Dashuritë e virgjëreshës Madalenë" e autorit Ridvan Dibra i dha një tjetër sukses në karrierë, pasi Arjola u përfol dhe vlerësua për skenën e masturbimin, në "E ardhmja është vajzë", ajo u shpreh se pavarësisht sukseseve, nuk ndihej e përmbushur.
"Arriti një moment që nuk po duroja dot më. Ndoshta për muaj e muaj kisha dëshiruar ta shihja në ëndërr dhe nuk më dilte. Dhe pikërisht atëherë kur unë po përjetoja suksesin më të madh timin në karrierë, Helga mungonte. Duke ndjerë një dhimbje të madhe për mungesën e Helgës në jetën time, por edhe unë jetën e saj, duke menduar që ndoshta ajo kishte të drejtë për këtë periudhë që unë e kisha lënë vetëm që të ringrihesha dhe të fuqizohesha ekonomikisht vetëm për hir të tyre, kisha një muaj të vështirë."
Aktorja tregoi se vendosi "të rrëmbente të bijën" sepse dëshironte t'i jepte të drejtë.
"Kam bërë një veprim që ndoshta të gjitha nënat mund ta bëjnë, kam shkuar dhe kam rrëmbyer fëmijën tim. U zgjova në mëngjes dhe e pashë në ëndërr që ajo ishte në një sallë reanimacioni. E prita të kthehej nga shkolla dhe ndoshta është vendimi më i mirë që kam bërë për ta marrë atë pranë vetes. Ndoshta si kjo histori ka shumë, por dua që në historinë time ta gjejnë veten të gjitha ato që janë gjendur dhe janë ndjerë si unë. Ka qenë një periudhë shumë e vështirë, por e kalur. Mund të them që ky ka qenë momenti më i vështirë në jetë, kur unë mora fëmijën tim, një fëmijë që refuzonte të më dëgjonte, të cilit i thashë 'ke të drejtë. Unë kam gabuar shumë, por dua të më japësh edhe një shans'. Falë Zotit, sot gëzoj kujdestarinë e të treve dhe jam shumë krenare për të tre."
Arjola recalled last year's quarantine, where she said very few people understood her joy. "God gave us three long months to stay together," she said.