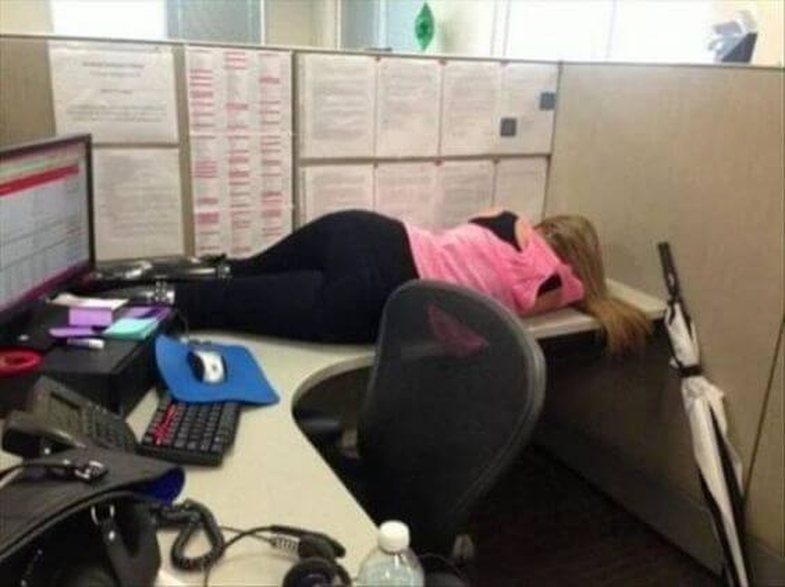 Coming to bed at work is so common, but it's hard to fall asleep, but it's not impossible anyway. Dozens of followers, asked on Anabel Media Instagram about the mistakes at work, indicated that they had fallen asleep. Others mentioned embarrassing situations with bosses or clients.
1) I sent an e-mail to the person I was cursing.
2) I locked the office door three times while I was with a fellow boy inside.
3) I forgot to wear the panties in the morning out of haste and we work wearing shirts.
4) I work at the airport in Rinas. When I was in the third shift, I went in slippers because I was drowsy and forgot to put on my shoes.
5) I sent an sms to the boss which I would send to my friend where I wrote "the boss left".
6) At the end of the email, instead of writing my name, I wrote the name of the boss.
7) Instead of saying "Goodbye" to the client, I said "Good morning".
8) I asked a client how he had people at home and he told me he had a bad mother. I said, "I like it," because I thought it meant a cliché answer.
9) I went to work with different shoes.
10) The first day I went to work, as soon as I sat in the chair, I had noisy gas. It was just me and the boss.
11) I said to the boss: "Do what I want, I do not ask you".
12) I went drunk to work and harassed the owner. Terrible.
13) Instead of writing to the director "Good job, Juna", I wrote "Good June, Juna".
14) I sent a work email to a foreign client called Mariana: "Dear Marjuana".
15) I thërrita gruas së shefit në emër të dashnores së tij. Sigurisht që gruaja e dinte emrin e saj.
16) I dërgova padashje shefit screenshot të bisedës.
17) Ika një herë me pizhama në punë.
18) Mbylla padashje në zyrë auditin e drejtorisë së përgjithshme. Ai gjithë natën fjeti në zyrë.
19) Në një takim në Zoom, të cilin e organizova unë, harrova të bllokoja zërin dhe dëgjoja muzikë në YouTube.
20) Mbylla kasafortën e bankës për 24 orët e ardhshme. S'kishte lekë ditën tjetër.
21) Punonim në Excel dhe më pyet shefi, "Në çfarë pike ke arrit te dokumenti?". Unë i them, "Te pika G".
22) Im shoq (drejtor) u fut në zyrë me kapëse flokësh që ia kish vënë vajza jonë tre vjeç në mëngjes.
23) Kur po mbyllja telefonatën me shefin, duke qenë se nuk e kisha mendjen te ai, i thashë: "Ok zemër, të puth".
24) U thashë kolegëve "Jam bossi këtu", ndërkohë që pronari ishte aty dhe unë nuk e dija.
25) Në vend të tostit, mora gjysmë buke me vete.
26) Më kishte zënë gjumi. Shefi e ka tavolinën ngjitur me mua. U çova kur gërhita.
27) Shkova në punë në ditën e pushimit.
28) Punoj në bankë. I kërkova një zotërie kartën e identitetit për të filluar veprimet dhe ndërkohë nuk e shoh fare në sy. Shoh kartën dhe i them, "Zotëri, kartën tuaj, jo të zonjës". Më sheh gjithë inat dhe më thotë, "Jam unë me flokë të gjatë". Lëshon flokët pastaj. E merrni me mend fytyrën time.
29) Dikur punojë në nja portal lajmesh dhe e kisha me aq qejf sa jam çuar natën somnambul dhe kam shkruar një lajm: Fatos Nano publikon albumin e ri me Kanye West, u veshën nga Gucci dhe sfiluan në muzeun e Luvrit. Kur u zgjova në mënvgjes dhe shoh te draft, kam qeshur një orë.