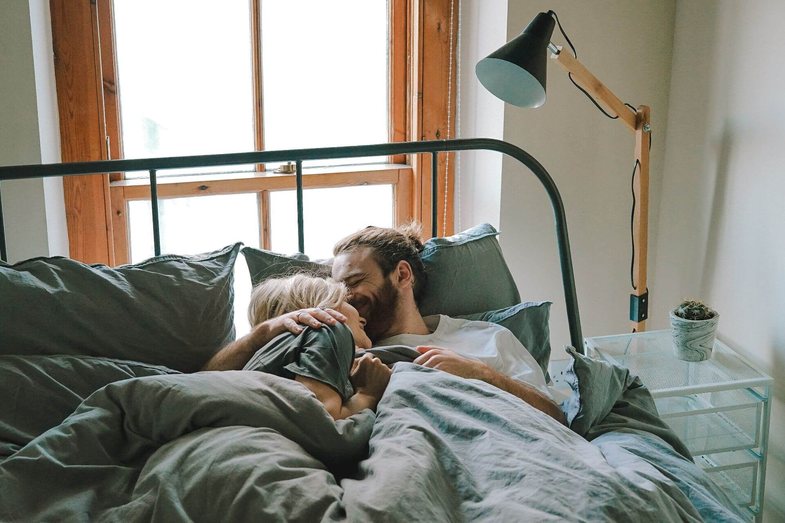 "I have met so many people in my sex therapy practice who want 'perfect' sex, passionate - like the one they see in the movies, where no one's hair gets messy and everyone has fantastic orgasms," she told Healthline Janet Brito, a sex therapist. "But this is not realistic. "We are not in Hollywood here."
"In real life, sex can be confusing, messy, even frustrating. "People may feel scared to have sex, frustrated that they don't do it regularly, or very worried if they're doing it right."
Here is what Brito suggests:
1. Use your senses
Use your five (yes, fifth) senses to focus on your body sensations. Abandon performance-based thinking and instead adopt a satisfaction-based approach. This helps reduce this sexual pressure, which most people complain about. Practicing this can help you learn to eliminate the fear that comes from believing that you need to know everything about sexual intimacy.
2. Expand your definition of sex
Sex is more than penetration. For the sake of variety, try more, which can include everything from deep kisses, sensual touches and erotic massages, to the use of vibrators or other sex toys. Exploring a range of bodily pleasures is the key to achieving orgasm.
3. Understand the language of each other's love
Kur puna bëhet e vështirë në dhomën e gjumit, mbështetuni në pikat tuaja të forta. Është mjaft e lehtë të heqësh fajin dhe të mërzitesh kur nevojat e tua nuk plotësohen. Por, në vend që të sikletoseni, kuptoni këndvështrimin e njëri-tjetrit. Gjeni disa pika të përbashkëta.
4. Shmangni krahasimin e partnerit/es me partnerët/et në të kalurën. Kush dëshiron të krahasohet?
Krahasimi tenton të krijojë pasiguri dhe pakënaqësi të panevojshme. Në vend të kësaj, kënaquni me njëri-tjetrin dhe mbajini gjërat emocionuese. Bëni kujtime të reja!
5. Bëhuni një detektiv
Jini kurioz për trupin tuaj dhe të tij/saj! E gjithë kjo do t'ju ndihmojë të pajiseni më mirë për të mësuar partnerin/en tuaj se si t'ju prekë.
6. Njihni kufizimet
Kur të jeni në gjendje të njihni motivet tuaja dhe sa kohë, energji dhe burime jeni në gjendje t'i kushtoni vetes dhe partnerit, do të filloni të ndjeni më pak presion dhe më shumë në kontroll në krijimin e jetës seksuale që dëshironi.
7. Gjallërohu
Seriozisht! Seksi nuk ka pse të jetë kaq serioz.
8. Merrni një vendim të qëllimshëm për intimitet
Planifikoni kohë për veten dhe partnerin/en, ose thënë më thjesht, mos e mbingarkoni veten me aktivitete jo-relacionale. Për ta mbajtur shkëndijën gjallë, duhet të rezervoni të paktën një orë në javë për të eksploruar trupat e njëri-tjetrit.
9. Fikni telefonin dhe flini pak
Për t'u ndjerë më rehat në trupin tuaj dhe më me energji për të eksploruar diçka të re në dhomën e gjumit, duhet të keni pushuar mirë.
10. Jepini përparësi kohës tuaj
Create more opportunities for sexual intimacy. Clarify your schedule for rest, relaxation and sexual activity.