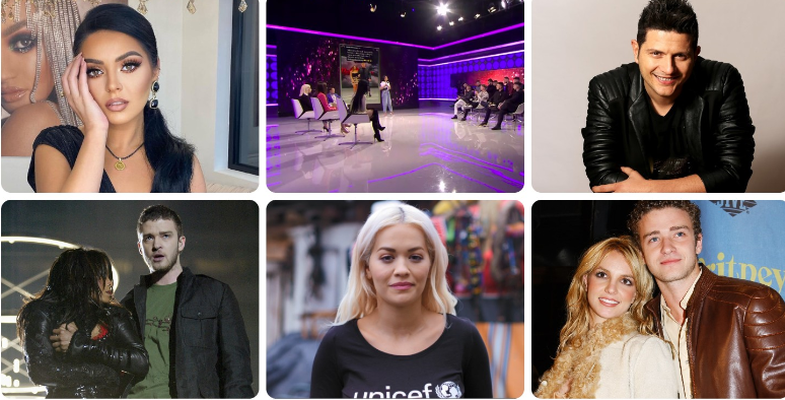 Shocking. This is the most appropriate adjective that can serve as a common denominator for all the ways in which some of the famous characters, or at least people with thousands and millions of followers, have reacted to the appropriate criticism of their followers. Ironically, they happened in a very short time and it is inevitable not to question our approach, or more precisely of the well-known characters in Albania, to express regret, to take responsibility and above all to sensitivity and humility to apologize.
After Fifi was criticized for the lack of responsibility regarding the organization of a concert in a closed environment where based on the footage, there were more than 5 people in 1 square meter, the singer responded by saying, in other words, that they have not right to criticize her for how long they drink coffee every day and according to her, people should spread positivity and leave her alone because "she has 11 months without work". The last time I saw Fifi (at work I guess) was two weeks ago on "Look who's playing", but I will deal with something else in this article - I do not have the right knowledge and it is not in the interest of this article that to deal with Fifi's finances and compare them to non-celebrities, not in privileged positions.
For the sake of truth, it seemed to me an isolated case, perhaps a thoughtless act and hasty reaction of Fifi. Maybe so it is, though chances are it may not be. No more than a month ago, in what was considered the TV scandal of "Për'Puthen", many things were said, but no one took responsibility for the actions and did not apologize. It would have been more honest, more humane and fairer for ex-competitors / productions to apologize for failing to manage the situation. But no, forgiveness was by no means an alternative. A few weeks ago, Ermal Mamaqi conducted a training that violated the anti-Covid measures, but although he triedto apologize and bear responsibility, Mamaqi apologized by not apologizing because he justified everything that happened with invalid arguments.
Aktori amerikan Humphrey Bogart shprehej dikur se "E vetmja gjë që i detyrohesh publikut është një performancë e mirë". Pjesërisht ka të drejtë. Këta njerëz të cilët ne i quajmë VIP-a, personazhe të famshëm, influencers etj., nuk janë figura publike. Pra, nuk janë presidenti, kryeministri, kryetari i bashkisë ose drejtori i një institucioni publik që paguhet me taksat tona dhe na detyrohen një shpjegim. Po them, nëse një X këngëtar nuk perfomon live ndërkohë që unë kam paguar biletën për një performancë live, kam të drejtën t'i kërkoj llogari, por në të kundërt nuk më detyrohet asgjë për qëndrimin e tij personal mbi çështje sociale. Sepse në fund të ditës, ata po bëjnë punën që kanë zgjedhur. Ne kemi zgjedhur t'i ndjekim, të paguajmë biletat e koncerteve, të blejmë produktet dhe shërbimet e tyre e kështu me radhë. Por a është kaq e thjeshtë? Përgjigjja e shkurtër: Jo.
Njerëzit pretendojnë, dhe mendoj me të drejtë, që personazhet e njohur të kërkojnë falje. Personazhi i Peter Parker te "Spider-Man" popullarizoi shprehjen që thotë se "me rritjen e fuqisë, rriten përgjegjësitë". Ne si konsumator, si publik, si ndjekës nuk pretendojmë që njerëzit e famshëm të mos gabojmë, por ashtu si në jetën reale, kemi pritshmëritë që të mbajnë përgjegjësi për çfarë bëjnë dhe të kërkojnë ndjesë. Kaq e thjeshtë. Por nëse falja nuk e zhbën dëmin, atëherë a ka rëndësi?
Po. Kur në vitin 1998 ish-presidenti i SHBA-së Bill Clinton mbajti fjalimin për lidhjen jashtëmartesore me praktikanten në Shtëpinë e Bardhë, Monica Lewinsky, fjalimi i tij dështoi për një arsye shumë të thjeshtë – mbajti përgjegjësi, por nuk kërkoi falje, nuk tha se i vinte keq. Në një sondazh të bërë nga CNN menjëherë pas fjalimit, më shumë se 60% e të anketuarve thanë se ai duhej të kishte thënë "Më vjen keq". Javë më vonë, Clinton kërkoi falje duke thënë atë çfarë amerikanët prisnin – "Më vjen keq".
Pothuajse dy dekada pas veprimeve të tij, me ose pa vetëdije, të cilat dëmtuan imazhin mediatik të Britney Spears dhe Janet Jackson, Justin Timberlake kërkoi publikisht ndjesë për veprimin e tij. Ndjesa e Timberlake nuk e zhbën kurrsesi ndikimin e tij negativ te jeta e këngëtareve, por ka rëndësi për një arsye shumë të thjeshtë: raporti me publikun dhe standardet e reja.
Të kërkosh falje do të thotë të kontrollosh dëmin që ke shkaktuar. Kur kërkon falje, ti vendos të thuash që veprimi yt është i gabuar dhe nuk duhet të shërbejë si model. Ti tregon se e mirëkupton reagimin e tyre. Ashtu si në jetën private, të kërkuarit falje ka rëndësi sepse vendos të tjera limite për çfarë është e pranueshme ose jo. Jo më kot transmetohen nëpër media (të huaja) deklaratat e njerëzve të famshëm që kërkojnë falje për marrëdhëniet e tyre abuzive. Ndjesa e tyre nuk e fshin të kaluarën, por ndikon te mënyra se si publiku percepton dhunën ose çdo formë tjetër keqtrajtimi.
In the case of Albanian characters, it is difficult or almost impossible to give an explanation why they fail to say "Excuse me". It is likely to be mismanagement or lack of management because at the end of the day they are people like all of us - their mistakes are simply made public. Or the possibility that they know the head of the public is not ruled out. History has unfortunately shown that no matter what they say, what they do or how they behave, they have the same number of followers on social networks, the same number of people at concerts, are invited to the same TV shows, treated and (re) evaluated equally. According to the country and the assembly!