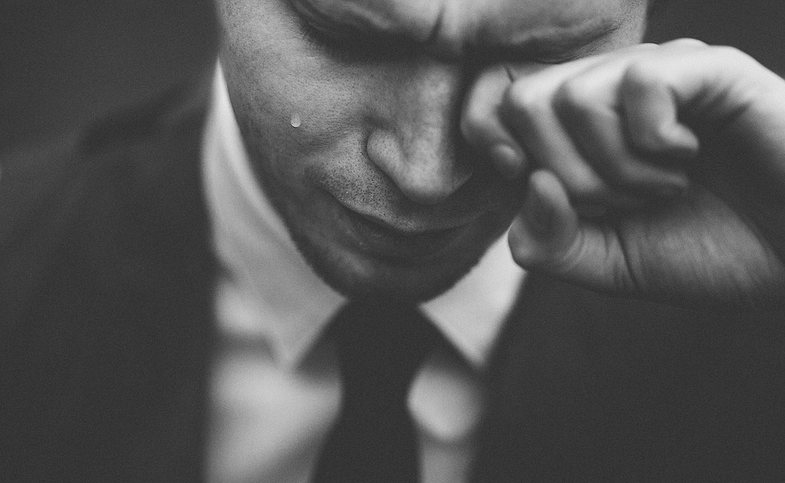 The Internet, at least the most tangible version, has turned into a warm electronic shoulder, but it does the same. Every day, hundreds of people write to us for a second or forty thoughts. To help those in need of the collective experience of hundreds of thousands of Anabel readers, we thought of posting your letters in the form of articles. This way, you find it easier when you are in the same trouble some day. Thank you for writing to us and thank you for reading.

Hello Anabel,
My name is Bledi. I'm 28 years old. My story begins as early as a time when one begins to experience major changes in age in their early teens. I'm not really sure about the period for which I just felt strange things about myself. However, I remember very well the anxiety and the fear that I could not figure out what was going to happen.
In society I have always been an open person, a joker and I have always liked being on top as a leader and a group leader. Everything was the same with my company, except for one thing. I didn't dream of having sex with any classmates, unlike all my classmates. By the time this thing started to bother me, I didn't understand why I had no sexual fantasies with any of my classmates.
In Albania in the early 2000s, most teens had just begun to watch porn, thanks to digital platforms, but also before on European television channels. We would often meet at a friend's house when there were no people there, and we would see them. To tell you the truth I could see that I didn't want to be separated from others, but I didn't feel anything. Time went by and the problem grew. I had flatly refused to believe that I liked men. I lived in an environment that even though we knew almost nothing about gays, we just shamed them, even scornfully called them gay. I had never met a gay man, but that was the main insult we used to shame anyone to the end.
Time went by and I had already started to understand things very well. There was already a secret buried in my conscience, which I had sworn I would take to the grave. For years I have even refused to think about it, pressing it all the time, always. The gymnasium period passed as it went, it was not too difficult because despite the development of hormones, I knew very well the secret, what I swore I would never tell anyone.
The first problems started at university, I had to pay extra attention. New friendship, different realities and definitely another new fight with yourself. There I have tried several times to make connections with women, it has not been difficult to say that I am not charming, I am lying. Short, minimalist links, to add to my list, as I would understand, everyone was ready to call me GAY.
There was one in my faculty group in Tirana that I admired, I liked deeply, but as I quoted above, I had to suppress it: I'm not GAY! I spent five years of horrible study, who knows how many mornings I woke up to with the pillow of tears because I didn't have to admit it. From school I had some very good friendships, for which I am very grateful to God. Within a short time I started working in the profession, the one I had always dreamed of. For three consecutive years, I worked tirelessly, with long hours, with a desire to walk higher, and it was the only way to forget who I was. At work I was consolidated, in the family things went smoothly. I had done well enough, as my parents were already proud of who I was. Thankfully still at a young age to create a family and I had never had the pressure of family, a moment every young Albanian goes through, and not just family, but all kin: Come get married, you became a man.
Time was running out and already the body's desires had become very difficult to manage. I knew all too well the new forms of online dating with people of the same sex, but I had always refused to do so. One afternoon, quite by chance, I see a movie in the subject of which was a young GAY, who at the end of the film manages to accept himself as he is and finds the courage to tell his family. I even manage to find the heart man, at Grindr, an app for recognition of dogs.
I knew Grindr's existence, but after this movie I got the courage to create an account for the first time. Let me tell you it was not a place for me at all, everything was super but super advanced, while I felt totally alien. Grindr is a world of fun, sex and dudes that I didn't get over. In the first three days I talked to a lot of people, I was definitely anonymous, everyone wanted sex. I had some time talking to one, significantly different than the others. After weeks of insisting we drink a coffee together.
I don't forget the embarrassment of that day. When I got home I cried. The first meeting followed the second, the third and so on, until one day, after many meetings, we kissed. I was numb, I didn't understand what I was doing, but there was no turning back. Time went by and I found myself involved, as much as we had already established a connection, a connection that no one knew. It's been two years from that day, the two most beautiful years of my life, the two years with the greatest intensity. During this time I have known everything, love, respect, gratitude, support and help we have given each other.
Few people know about us, but we still have many challenges to overcome. My biggest challenge is family, yet I have not found the strength to tell them that I am like everyone else, with heart, responsive, loving, nervous, cheerful, idiot, stupid, kind, compassionate .. but GAY. I admit it to myself, but it takes a lot of work to tell my mother that, under whatever circumstances, I am her perfect son, as she has always known me!