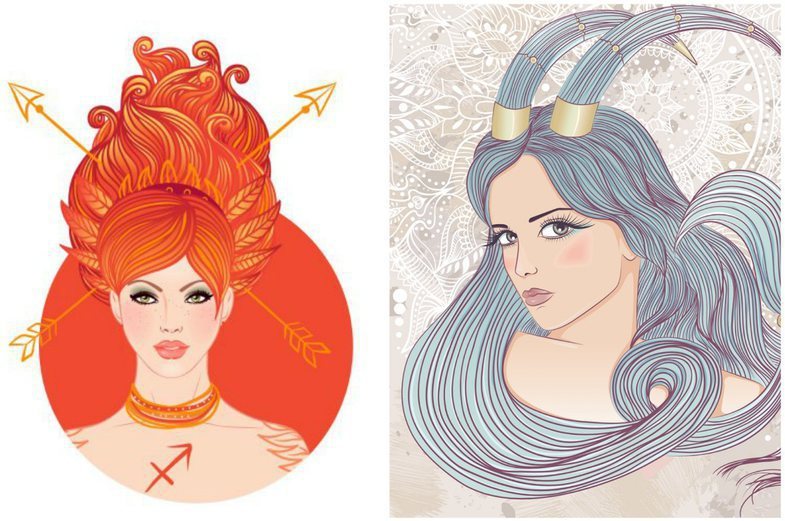 This month will be fixed for you. August brings the Lion to the forefront and as an Sagittarius, you will feel happy. Four celestial bodies are in your ninth house of distant lands and most likely, traveling will be your favorite activity. The new moon in Lion, July 31 - August 1 will set things in motion and you will notice the first ten days of August. Jupiter, the planet of happiness and growth, will provide you with a broad overview of all that life has reserved for you. Jupiter's position is especially important to you after ruling the Sagittarius. If you can't travel, you can go back to school - education will make you one step ahead.
You may encounter an obstacle in your journeys, as Uranus, located in the labor sector, can bring about an unexpected task. When you are ready to leave, you may need to postpone the trip until you complete the most lucrative task. Also, you may be worried about revenue and expenses, as Pluto will oppose Mercury. You may need to find money to pay a creditor or consider your financial transactions before traveling.
On August 15th, the full moon will be set on Aquarius, your other travel sector, and you will likely end up detailing a route or document you need to sign. If not, a legal issue or project in publishing or broadcasting will be finalized. Again, Uranus will oppose Mercury, but as this full moon is in Aquarius, the effects of this devastating planet will be greater and more damaging. It would not be in your interest to sign a contract in mid-August. Wait for August 21, when Aphrodite and Jupiter are in harmony.
You will shine when the new August 30th moon settles into your tenth house of honors, awards and achievements. This date is your best chance for a remarkable career breakthrough. You will have a series of planets in your tenth house - the Sun, the new moon, Mars, Aphrodite and Mercury.
The location of the Sun in the graphic defines the sphere where you shine - this month, you will shine a career. Proximity and Mars in this house will ensure that you have a good deal with your subordinates' superiors. They all love you for themselves.
Mars will give you the impetus to win, whatever the circumstances - and you will win. Mercury rules your career, so Mercury-oriented Uranus suggests you get a publicity opportunity and you can mark a golden career opportunity. This time, you will have only glory and little money - quite the opposite. You will be paid and generously paid.

Looks like you're working on a significant financial deal and to no one's surprise, it's pretty cluttered. Have Mars, Aphrodite, Sun and the new moon of July 31 - August 1 in your favor, all in the eighth house of others, and the new moon will have influence ten days after it appears. This new moon will help you turn the deal in your favor. Have a secret lover who will help you find the funds you need to accomplish a major goal. There will be obstacles, of course, thanks to Uranus, the planet of the unexpected, that will challenge the Sun, the new moon, and Aphrodite. Perhaps you should rethink the project as you will see unforeseen costs.
The new moon in the August 15th Aquarium will bring a financial issue to a close within four days, but like the new moon at the beginning of the month, Mercury will be occupied, first by Pluto and then by Uranus. That means you should avoid contracts by the end of August. Sign on August 21 or August 28-29.
The happiest part of the month will be August 30, when your ninth house - the part of the graph that gives you a panoramic view of life - will have five celestial bodies - the Sun, the new moon, Aphrodite, Mars and Mercury - all in the sign of the Virgin, a sign of the land like you. What a great moment for the traveler, at the end of the month and the beginning of September. This trend starts on the new moon on August 30 and lasts until the first ten days of September. Decisions made in this period will affect you for a year or more.
If you do not plan on traveling because of the opportunities the new moon brings, you may be returning to school. If so, you will have excellent results, as the impact of this moon will haunt you for at least twelve months.
If you are not going to school at the end of the month, you may be involved in a broadcast or publishing project that will also prove your worth. If you have legal issues to consider, deal with it after the new August 30th moon. This new moon is special because you have the support of Uranus and Saturn that will strengthen stability in your romantic relationship. If you can travel, do it, as you will enjoy it.
One final word: Consider the weekend of August 24-25, when Aphrodite and Mars will come together to create one of the most romantic weekends of the year. You will enjoy it all the last week of August too - happy days await you.